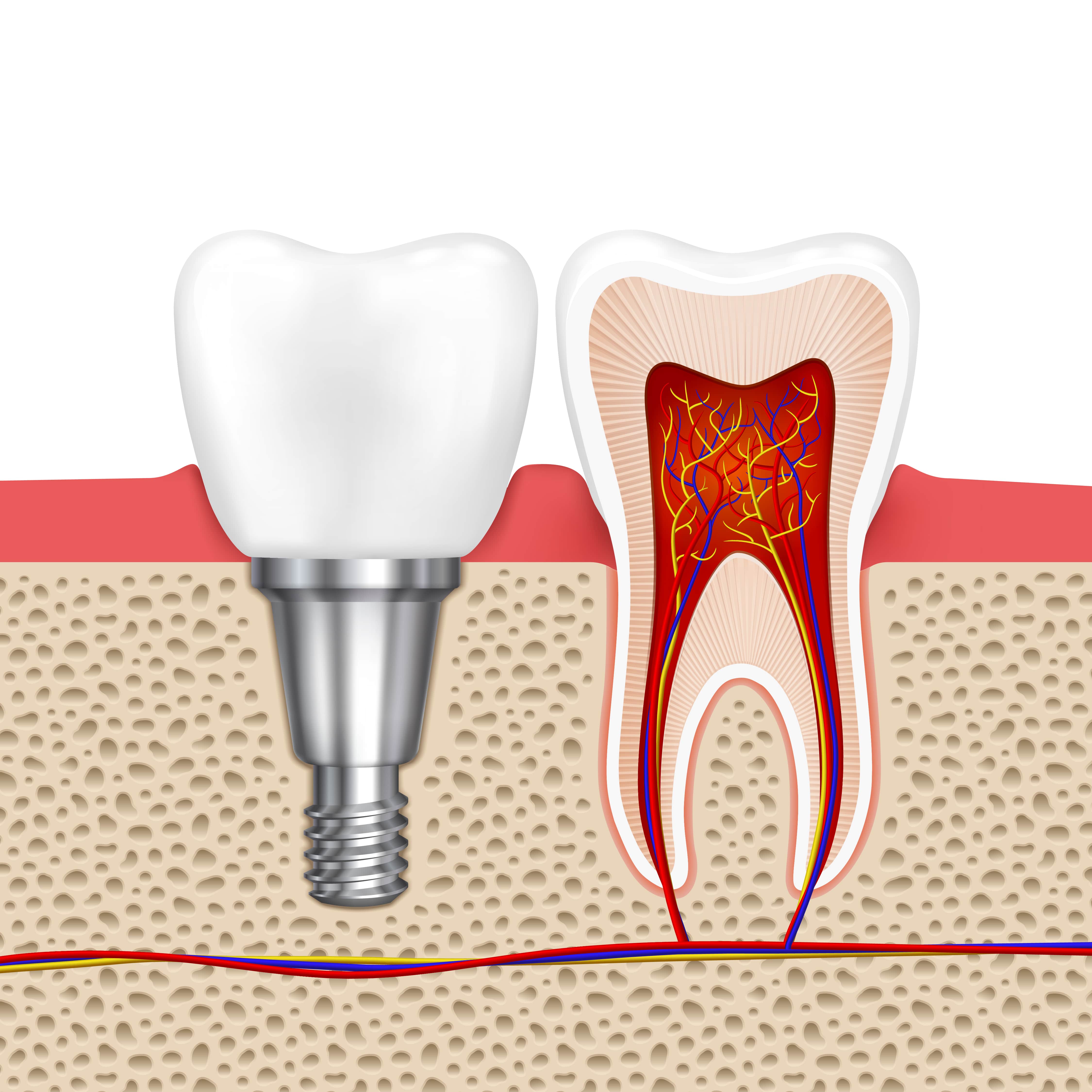 Dental Implants in Turkey
Dental implants are artificial tooth replacements used to counter tooth loss. Dental implant the procedure is categorized as a form of prosthetic (artificial replacement) dentistry, though it also falls into the category of cosmetic dentistry as well. Uzmanlar Dental Clinic has been offering high-quality dental implants in Turkey for the past 20 years.

Preparation & Implant P

lacement
The implant acts as a replacement for the root of a natural tooth and can be used to support a single crown, a dental bridge, or a denture.
The dental implant procedure typically involves several steps, including:
Preparation: The first step in the dental implant process is to prepare the site where the implant will be placed. This may involve extracting any damaged or decayed teeth, and performing any necessary bone or gum tissue procedures to ensure that the site is ready for the implant.

Implant placement: The next step is to place the titanium implant into the jawbone. This is typically done using a local anesthetic to numb the area. The implant is placed into a hole that has been drilled into the jawbone, and then it is left to heal and integrate with the bone over a period of several months.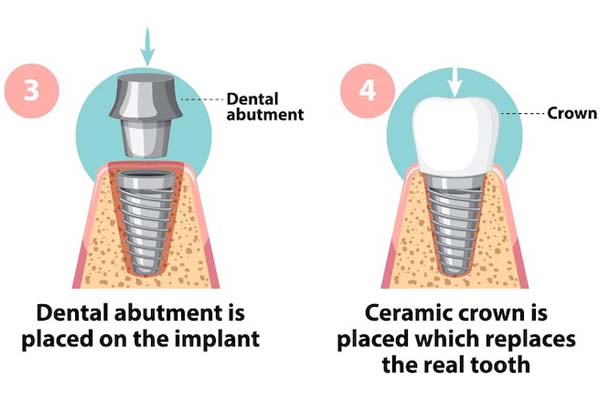 Abutment & Tooh Placement
Abutment placement: After the implant has had time to heal and integrate with the bone, a small metal post called an abutment is placed onto the top of the implant. This serves as a connection point for the replacement tooth.

Tooth placement: The final step in the dental implant process is to place the replacement tooth onto the abutment. This can be a single crown, a dental bridge, or a denture, depending on the patient's needs. The replacement tooth is typically made to match the patient's natural teeth as closely as possible in terms of color, shape, and size.
Although you have a number of restorative options for the treatment of missing teeth, none have proven to be as functionally effective and durable as implants. In many cases, dental implants may be the only logical choice for the restoration of all necessary functionality of the teeth and supporting structures
Why Should I Choose Dental Implants In Turkey
Dental implants in Turkey are strong, durable and natural in appearance, implants are among the most successful dental procedures performed. People who have lost teeth might feel too self-conscious to smile or talk. Additionally, biting irregularities caused by tooth loss can have a negative effect on eating habits and this can lead to secondary health problems like malnutrition. Regardless of the nature of problems related to tooth loss, dental implants may provide a simple remedy with proven results.
How Does An Implant Look Like?
Advantages of Implants in Turkey
Dental implants are stronger and more durable than their restorative counterparts (bridges and dentures). Implants offer a permanent solution to tooth loss. Additionally, implants may be used in conjunction with other restorative procedures for maximum effectiveness. For example, a single implant can serve to support a crown replacing a single missing tooth. Dental implants can also be used to support a dental bridge for the replacement of multiple missing teeth, and can be used with dentures to increase stability and reduce gum tissue irritation.
A Reliable Alternative

Naturally replaces missing teeth

Supports a single or full bridge

Eliminates the need for a partial removable denture

Helps prevent bone loss and gum recession

Makes it easier to chew, eat, talk and smile!

Fuses to living bone for that real tooth feel

Makes dentures more comfortable and secure

Eliminates messy denture glues and pastes

Eliminates wrinkles on your face giving you a younger appearance

Requires no adhesives, removals, soaking or cleaning

Provides a reliable, long-term dental solution that can last a lifetime!
When Do You Need Dental Implants?
| | |
| --- | --- |
| | When there are no teeth in the lower jaw: |
| | |
| | When there are no teeth in the upper jaw: |
| | |
| | Implant application in a single missing tooth |
| | |
| | The finished state of the implant |
| | |
| | |
| | Implant Application in the absence of posterior molars |
| | |
| | No more than one tooth in the posterior region |
| | |
| | In the first stage, implants are placed |
| | |
| | Placement of upper artificial porcelain |
---
Dental Implant in Turkey - Reviews
John Charles - United Kingdom
I want to thank tahmeenah and the staff at Uzmanlar dentistry for making me feel so welcome a brilliant service
---
Lux Shah, United Kingdom
BEST DECISION EVER AS CAN'T FAULT THEM FROM START TO FINISH
After 4 months of research and getting different treatment plans and prices from many companies all over the world ( india pakistan thailand hungary and turkey )
All based on the same panoramic xray i was so confused as Didnt really understand the treatment plans and why such a different range of treatment plans and costs.
I Finally decided on 2 companies both based in istanbul and both who contacted me via whatclinic.com
Treatment plans were similar and the prices to.

I had told both the sales people on the monday i would make a final descision on friday with who i would go with as still had some reservations as one company wanted a lot of money upfront and my treatment was going to be in 2 stages which Didnt give me much peace of mind.

And the second company treated me like an idiot making comments like the offer will end soon and ticket prices are getting expensive.
As i fly to istanbul quite frequentlly i knew the prices would go up but as i was in no rush on when i went i knew this wouldnt be a issue.

On Tue out of the blue kenan contacted me from uzmanlar and asked me if he could assist in Anyway.
I told him he was a bit late and that i had short listed 2 companies and was going to do Buisness with one of them and was going to give one of them a firm descion on friday.
So he was a bit late and i didnt want to go through all the hassle of another company and getting further confused and didnt want to waste his time
He replied to give him an opportunity as i had nothing to lose.
So i sent him the xray.
A short while later had a phone call And spoke wIth dentist.
On thu got a treatment plan that was explained in easy to understand english and was a lot better then the others i Had spoken to.
The price was very good too.
By thu evening i had agreed with kenan that i would get the treatment with them as he had ticked all my boxes and explained everything in detail and done the quote how i wanted it.
I asked for transfers ,hotel to be included in the price as wanted a firm price as didnt want the hassle of looking around myself as i Had to have extensive work to my teeth.

In the end we had agreed to 12 teeth being removed,gum treatment,4 implants to the top,temporary fixed teeth in zirconium,and then 3 months later 28 zirconium teeth.

They had to put an extra implant in but never changed the price.
Treatment was done with in the 5 days that was specified.
I cannot fault these guys in Any way and if your seriuos about getting dental work done this is a company that should definatley be on your list. As for me my temporary teeth look so good that sometimes i think do i really need to go back 😊😊
10 out of 10 to all at Uzmanlar.
---
Mohammed Ezzat, Turkey
THEY ARE OF THE HIGHEST STANDARDS, I DIDN'T FEEL A THING EITHER DURING OR AFTER THE OPERATION
I'm from Egypt. I have a teeth implant at Uzmanlar. The operation was done by Dr. Ömer KODAN using the latest technologies known in the field (guided operation). They are of the highest standards, I didn't feel a thing either during or after the operation. Although Dr Ömer has a great reputation, witnessing their work was really surprising to me. I highly recommend this clinic.
---
Michael Baldacchino, Malta
HIGHLY RECOMMENDED
It was not easy to decide where I will do my dental surgery and implants. After alot of questions to several clinics in Turkey, I asked my private dentist for his advice. He suggests Uzmanlar Dental Clinic Besiktas Istanbul. I was treated as a VIP at Uzmanlar clinic. Dr Omer KODAN and his team are very professional and nice with their clients. No no pain at all during the procedure and post-op. Thanks alot Dr Omer. Highly recommended.
---
Sharon Cutajar, Malta
I RECOMMEND A LOT THIS CLINIC
100% satisfied. Was there last week but from the communication between the clinic and me. Transfers. And hotel combined it was more than excellent. Doctor Omer is very professional and helpful to guide you on what is needed for your teeth. Really satisfied and I am looking forward to continuing my treatment in a few months time.

Thank you, Doctor Omer and your team for the excellent work you have started to do on my teeth. I recommend a lot this clinic. Thank you
For more information about dental implants in turkey and prices;
Call / WhatsApp Line: +90 546 609 86 49